I can' t say that I'm a shoe-holic mainly because I don't own a lot of pairs BUT I love them! Main reason that I don't own a lot of pairs is because I'm not that fashion conscious before, I usually stick to basic shoes like pair of black plain flats for school, boring kitten heels when I was working and lots of ordinary sandals when going out malling. I'm simply contented of what I saw in magazines and the best reason is that they are way pricey for me.. hehehe.:P Now, I'm trying to collect shoes that I can really use over and over again, they may not be the expensive ones or the most branded ones but they are the ones that catches my eyes and fits my budget! :)
Enough explaining! hehehe..:) This post is about what if I have a lot of money and I can buy shoes!!! So here's my favorites: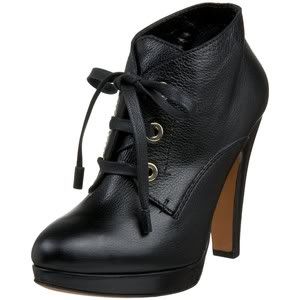 1. Moschino Chic and Cheap Lace up Booties in black

- this really catches my eyes! I love that its simple yet with a lot of edge! (i think..:D) Can pair it with flowy mini dresses or bodycon one..:)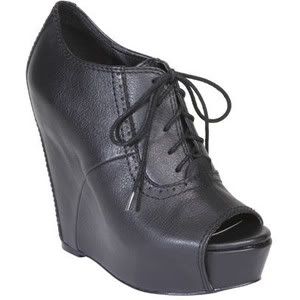 2. Steve Madden Annton Cognac Le in black

- this is really cool! I love that it's wedge, lots of support..:) Peep toe and oxford design..:) Pair it with high waist shorts or skirt!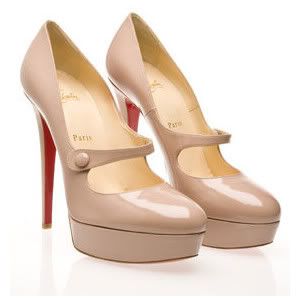 3. Christian Louboutin Relika Platforms in nude

- who doesn't want to own a pair of louboutins? Me, I want them in nude..:) Although the heels look scary, it is supported with the cute straps..:) Pair it with any color of dress, it matches all! :)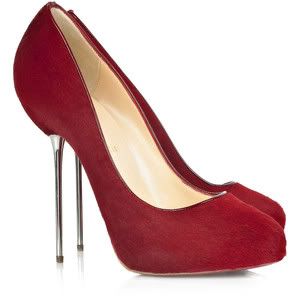 4. Christian Louboutin Biglips 120 Calf Hair Pumps in red

- If one pair is not enough.. I'll choose them in red to make a statement..:) The heels are really really scary, I need a lot of practice here..:) Pair it with black suits or white to make it stand out! :)
5. Guiseppe Zanotti Crystal Bow Embellished Suede Pumps in black

- No more boring black shoes!:D This is so cute with lots of ribbons at the back part..:) The heels are again scary and needs practice..:P Paired it with plain dresses to make the shoes on spotlight! :)
6. Betsey Johnson Alison Bootie in black

- this lace up booties looks romantic with its all lace body, makes you feel sexy too..:) Lolita ish style I must say..:) Pair it with long full gown with lots of tulle or maybe your wedding dress..:)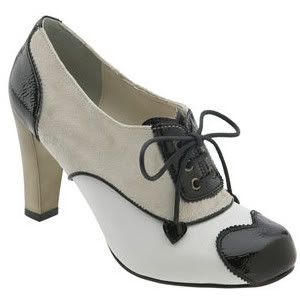 7. Harajuku Lovers Packard Oxford pumps in white and black

- A must have this year! :) Love that the lace ends with a heart shaped design..:) This is so versatile, you can pair it with jeans or any clothes you like..:)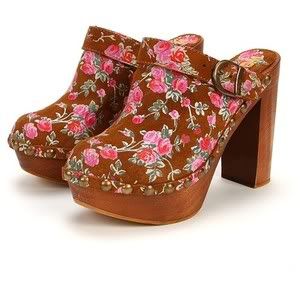 8. Jeffrey Campbell Charlie Floral Clogs

- this so adorable and clogs is one of the must have this season..:) And this one is for keeps as fashion repeats it self, you can wear it all over again because of its unique pattern..:) Pair it with hot shorts or vintage pants..:)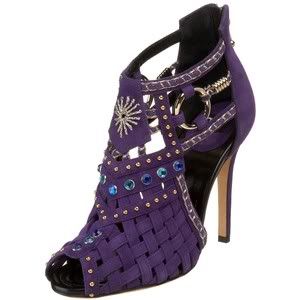 9. Dolce and Gabbana Womens DS1809 E7666 Pumps in purple

- (I really hope this is the right name for this shoes).. if I'm going to have a pair that shouts fashion, I'll pick this and in my fave color too! :D One of a kind with lots of delicate detailing and materials..:) Pair it with colors black, white, purple, yellow or nude dresses and it surely be the eye candy! :)


Ok so this ends my drooling shoe post, hope you like what I chose..:) Maybe next time I'll do my bag post, will browse the net for the ultimate bag ever! (in my eyes, I guess.. hehehe) :)


Hope all is well! :)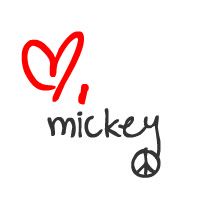 P.S. all photos are from
polyvore.com