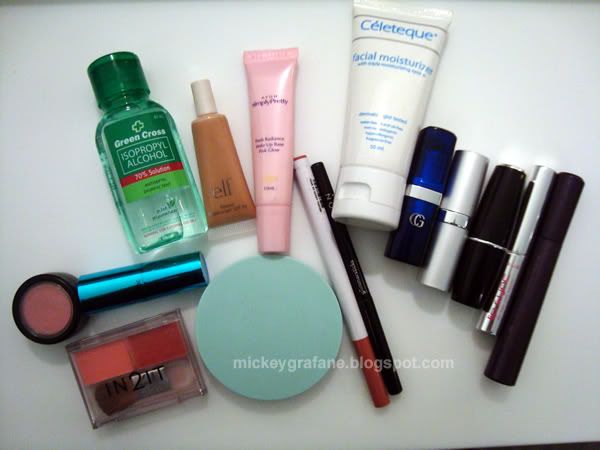 Just want to share the inside of my make up pouch, it's my everyday work wear, the shade of my lips depends on my mood that day that's why I need to bring all my fave shades..:)
from left to right:
1. In2It long wearing twin blush in Compulsion.
2. Nichido eyeshadow in Electric Pink.
3. Maybelline Clear Smooth face powder in Natural (hope i can find a refill soon!)
4. Fanny Serrano Moisturific lipstick in Pink Chic (my fave pink shade!)
6. E.L.F. tinted moisturizer in Honey.
7. Simply Pretty make up base in Pink Glow.
8. Etude House lipliner in 07.
9. Avon Glimmersticks eyeliner in Blackest Black.
10. Celeteque facial moisturizer (love that it's water based)
11. Cover Girl lipstick in Really Red (my fave red shade plus it's long waring too!)
12. Nichido lipstick in Toffee.
13. Avon Ultra Moisture Rich lipstick in Sheer Nude.
15. Simply Pretty waterproof mascara in Black.
I've changed my header! hope you like it too! :D